At least 40 UK politicians complicit in alleged Westminster 'pedophile ring' – report
Details

Category: Paedophile Rings
Created: Saturday, 05 July 2014 23:40
Written by Reuters Thompson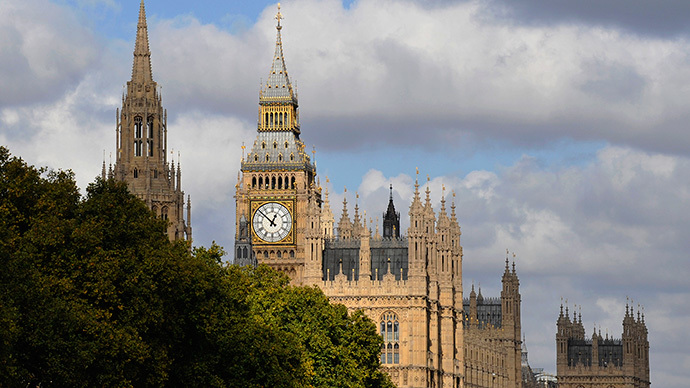 The Palace of Westminster (Reuters / Kieran Doherty).
A whistleblower who kicked off UK police pedophile probe Operation Fernbridge believes as many as 40 British MPs and peers were involved in or turned a blind eye to child abuse.
Peter Mckelvie, a retired child protection team manager, who has spent more than 20 years compiling evidence of alleged child abuse by people in authority, believes ten current and former politicians are on the list and that there is enough evidence to arrest at least one senior politician, reports the Daily Telegraph.
MPs and peers from all three main political parties are on the list including Cyril Smith and Sir Peter Morrison, who are now dead.
McKelvie was behind bringing Peter Righton, a notorious pedophile, to justice when he worked for Hereford and Worcester child protection team and believes that up to 20 MPs and Lords should be investigated.
"I believe there are sufficient grounds to carry out a formal investigation into allegations of up to 20 MPs and Lords over the last three decades, some still alive and some dead. The list is there," he said.
And in a letter to his local MP Tony Baldry last month, McKelvie suggested that a further 20 may be implicated in covering up child abuse.
Although he does not suggest that any of the public servants either MPs or Lords colluded with each other.
It was Tom Watson MP who first raised the issue of child abuse by MPs and peers at Prime Minister's Questions in October 2012 as a result of information that McKelvie had passed to him.
Watson spoke of "clear intelligence suggesting a powerful pedophile network linked to parliament and number 10."
It was after Watson's intervention that the Metropolitan Police began Operation Fernbridge, an ongoing investigation about alleged child abuse at the Elms Guest House in Barns, South London.
It is understood that a Tory MP abused a child under the age of 10 at the guesthouse in the 1980s, but the alleged victim has so far refused to give a sworn witness statement to police.
Earlier this week it emerged that a separate file on an alleged Westminster pedophile network, which had been put together by the now deceased MP Geofrey Dickens, mysteriously gone missing after he handed it to the then Home Secretary Lord Brittan in 1983.
Labor MP Simon Danczuk, along with six other MPs, has written to the Home Secretary Theresa May demanding a public inquiry into the missing dossier and the people who had been named in it.
Mrs May said she has not ruled out an inquiry after the police finish their investigations and Prime Minister Cameron also tried to give reassurance that the issue would not be swept under the carpet.
"I've asked the permanent secretary at the Home Office to do everything he can to find answers to all of these questions and to make sure we can reassure people about these events. Its right these investigations are made. We mustn't do anything, of course, that could prejudice or prevent proper action by the police," he said.
Separately it was reported Friday by the Telegraph that a senior Tory who is being investigated as part of Operation Fernbridge, was stopped by customs officials with child pornography in the 1980s but was never arrested.
Source : https://www.rt.com/uk/170672-uk-politicians-pedophile-ring/