In 1995, when two eight-year-old girls were kidnapped, Dutroux, a convicted sex offender, was a prime suspect from the start, yet he wasn't arrested for 14 months. By that time, four of his captives - including the two girls - were dead. Since his arrest, 20 potential witnesses connected with the case have died in mysterious circumstances, fuelling suspicions of a cover-up reaching the highest levels.
Abuser Name or Alias::

Marc Dutroux

Type of Abuse::

Sexual, Death

Matter Resolved?:

Yes
Inside the Pell trial: we sat in court for months, forbidden from reporting a word
Details

Created: Wednesday, 27 February 2019 02:04
Written by Melissa Davey - Guardian Australia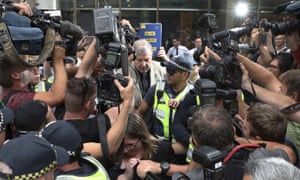 When the verdict came, the room was still. No one made a sound
For nearly three months a small group of journalists watched as the most powerful Catholic official to be charged with child sexual abuse faced justice in a Melbourne courtroom.
Until now we have been unable to publish a word of what we heard and saw.
Cardinal George Pell, a confidant to the pope and the financial manager of the Vatican, had been on trial for child sexual abuse – not once, but twice.